This is where I will sell my unique, beautiful crystal trees!
It is on a first-come, first-served basis. If you would like one personally made for you, please email me at annemarie@annemariekell.com
Good Luck, fortune and success, crystal tree.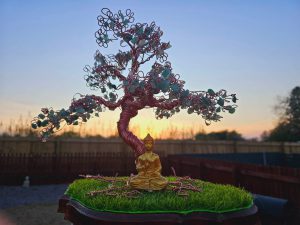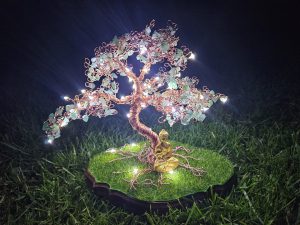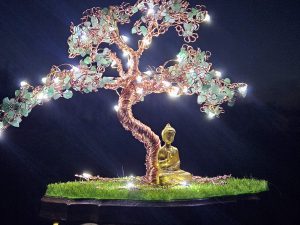 This exquisitely crafted tree has been created with utmost care and devotion for its future owner. Throughout its creation, I have called upon the universe, angels, and spirit to bless the purchaser with prosperity and success. The tree is adorned with around 450 green aventurine crystals, a stone renowned for its positive energy and ability to soothe negativity and foster spiritual development. Known as the "Stone of Opportunity," green aventurine attracts wealth and good fortune, making it a fitting addition to this tree of abundance. The tree is fashioned from copper wire and features a resin Buddha figurine, symbolizing peace, positivity, and prosperity. The solid wood base has been stained and topped with artificial grass, imbuing it with a natural feel. Finally, a string of 50 fairy lights has been draped around the trunk and leaves, creating a breathtaking sight when illuminated at night. The lights are powered by 3 AA batteries, which I have thoughtfully included for immediate use. This unique creation took me five days to craft, and once sold; I will begin work on another.
Height 8.5 inches, branches width 9.5 inches, wooden base is 8.5 inches x 5,5 inches.
There is a 5% discount currently on everything that is purchased
For the first ten people that buy this tree, they are at a special price of £120.00 normal price is £150