If you have had a reading with me, been to one of my clairvoyant nights, have received a spirit portrait or have had teaching with me and you want to share your experience to let others know, so they can make a choice as to whether i am the right person for them i would be eternally grateful thank you so much in advance xx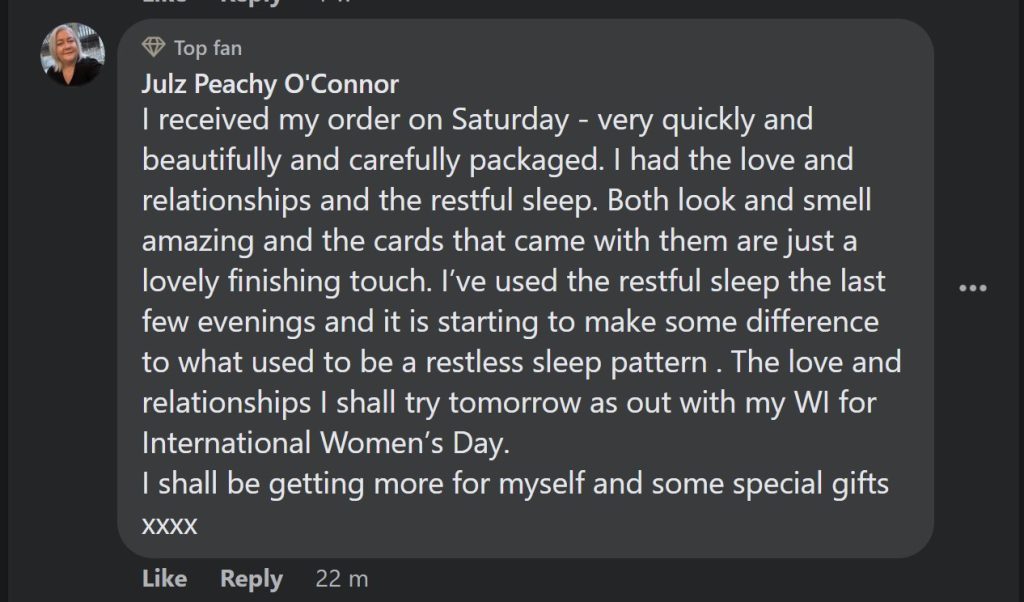 thank you for my reading I loved it xx Jackie
I don't think I ever told you, but you were repeatedly right over at least six months about the timing of when I would get a new job and you predicted the exact day it was offered to me. Amazing!  Tina Fl
I also had a reading with you back in april and everything you said happened , you are amazing and spot on with what you say and I like the way you say it how it is ,

thankyou

xx Dee
Thankyou
 for my wonderful reading I always look forward to hearing from you and it helps me use your advice you give me
Along my path .
Thankyou
 takecare keep well and safe
Lots of love and big hugs kerry xxxxxxxxxxxxxxxxxx
Hi my dearest Anne Marie,

 

 

Thank you so much ❤️❤️❤️❤️

 

I have learnt a lot from you and still keep learning so much 🥰🥰🥰

 

I cannot thank you enough for your support 💖💖💖

Lots of love 💕

 

Cleo
I have just received a reading from Anne-Marie, and am so impressed that I wish to express my immense gratitude and amazement in writing.
Over the years, I have had many readings but none have remotely approached the level of the one Anne-Marie provided this evening.
Anne-Marie's manner was gracious, compassionate and understanding yet also straight-forward and sincere. I feel truly uplifted by her honesty and sincerity, which is a rarity in this day and age.
Her accuracy was astonishing, and I am still somewhat dazed as to the level of detail that she provided.
As previously stated, this reading was unparalleled in every conceivable way.
Anne-Marie is without doubt, the best reader I have ever come across and would not hesitate to use her again or advise others to do so.
She s an excellent example of professionalism, humanity, humour and accuracy.
Many thanks for an excellent service.
Charlotte xxx
I have seen Anne Marie on a couple of occasions now and have thoroughly enjoyed the experience. Anne Marie has seen me when I was at my lowest point following the break up of a relationship and when I have been getting my life back on track. During both reading Anne Marie made me feel comforted and loved, she really does care about your situation.
Anne Marie's gift is second to none and so varied. She has been spot on with everything she has told me about my situations. She is a very genuine person and this also emanates in her work.
I have recommended Anne Marie to my friends and colleagues who all are still raving about their experiences. I would recommend her to everyone. She is so caring and even after your session with her she is always on the end of the phone or email should you need her.
My time spent with Anne Marie has helped me grow and evaluate myself and what I want to achieve in life! I have never felt so positive about my future and looked forward to the new exciting opportunities Anne Marie has spoken to me about.
Highly recommended in my book, Anne Marie is not just someone who will read for you and that's it, I class her as a friend as well and I am very grateful she has come into my life.
Danielle Hooper  From Huntington
Anne is a warm and genuine Medium and Psychic with a passion for helping others

 

Donna Stewart Medium
Anne Marie has been my trusted beacon of light for many years now. She is who I call upon when I need to make sense of any situation or simply to know what lies around the corner.
I was in awe of Anne Marie from my very first reading when she was able to pick up messages from my Mom who had passed away. She described her to a tee, and even got her exact name. Anne Marie knew things that were very personal between my Mom and I.
Anne Marie is a loving, honest and compassionate person, a rare and true gem. She is truly gifted. I plan to call upon her as my guide for many years to come.
Thank you Anne Marie!
Tracy C. Townson, Montreal, Canada 
I would like to say a great big thank you to Anne Marie Kell for a very informative and excellent reading.  She was very accurate about information that I already knew about. Her readings are also very well presented and professional.  She is a very gifted lady and I highly recommend her if you are thinking of getting a reading. You will not be disappointed. Lots of love Anne Marie. Mary xxx (1st October 2010)
I've been having readings from Anne-Marie for 5 years now. She is an incredibly accurate and sensitive reader. She takes time to answer all questions and she answers them clearly and precisely. There's no vagueness with her and she will tell you honestly the messages she's receiving from Spirit and from her cards. She's the best reader I've ever gone to and I'm happy to stay with her.

 

Vicki McKellar
I have been having readings with Anne Marie now well over 7 years. She has "seen" me go through many changes, with career & Love Life, her predictions have always been accurate & as more often than not, given timings & names, which were relevant "at the time". I trust her readings immensely & they have given me much guidance and answers to the questions I was seeking.
I've also had two spirit guide portraits at different times over the years….which are truly beautiful, and bring you closer to your guides.
Love & Light, Julz xxx

 

(Julie from Stourbridge  West Midlands
In my experience, choosing 'spiritual services' are never an easy one. We often fail naturally to comprehend logically its authenticity and perhaps use them for 'quick-win' solutions to choices, light & dark which we are presented with in this lifetime. I believe, we all have a 'mission' in life. Some will have an 'easy ride' others, will triumph through adversity and we can get consumed with the unfairness of it all. Think of a beach of sand, our universe, lifetime, represents one grain of sand! Anne Marie, in my experience based on a reading in January 2008 is a VERY special individual- she is a gift of light, from spirit, to shed light on the essence of, you. She would probably be a 'premium' listing in the Spirit Yellow Pages 😉 Its amazing how a photograph can reveal unbelievable accuracy about, through Anne. Her insight gives an 'uncanny' perspective to our lifetime, with an amazing degree of authenticity and humility. There are many services, plumbers, electricians which we would not choose, through poor experience and bad repute. I say, with sincerity in a world of many 'spiritual services' being offered, TV, newspapers or many will be aware of several web sites- our choices can be difficult or even, poor- trust me!

 

Anne, is the real deal.

Marilyn xXx (2 for 1 reading in Jan 2008)
Anne Marie's reading was 100% Accurate.
It made total sense and gave me all the answers I needed. This is the best psychic reading I have ever had online and would definitely have another one done. It is clear that Anne Marie puts 100% time and effort into her readings. I would highly recommend Anne Marie. She is a star! from ukmusik
Anne Marie, I am so exited I can't believe it we have had an offer on a lovely house accepted! You thought we would be signing contracts for possibly a new house June or July and it is actually happening. It is great news! Thank you so much for helping me be positive. Lee x
Hi Anne Marie,
I have sat here and cried reading your letter, thank you so much, you couldn't have been more accurate, thanks for giving me some hope and I will definitely be recommending you. thanks so much
Allison
Anne Marie,
Thank you for a lovely tarot reading! your a very talented and gifted lady!! i was very impressed!! you summed my life up impeccably!! will recommend you to my friends and family!!
Lorraine
Dear Anne Marie,
A very big thank you so much for doing genuine readings for me – I have never had a 100% accuracy ever before with Tarot cards. Every reading you have done for me has helped me so much with my life, before you did these for me I was so mixed up inside, and now – I am very much at ease because of your help. I shall be having my cards read often with you and I cannot recommend you high enough to others, thank you so much once again for all your help.
God Bless You
Margaret